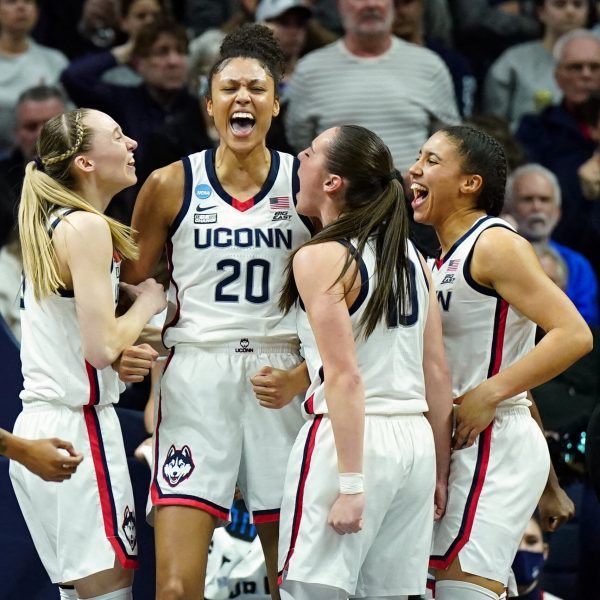 EXCELLENCE  AND  GLOBAL
The University of Connecticut (UCONN) Women's Basketball Team has been the definition of Excellence for nearly 40 years. Much of this is due to the leadership and culture built by the Head Coach Geno Auriemma  and Assistant Head Coach Chris Dailey.
EXCELLENCE: In this stretch, the team has had:
6 perfect seasons
11 National (NCAA) titles
34 straight NCAA tournaments (since 1989)
22 Final Fours
14 straight Final Fours
21 Big East Conference championships
10 straight Conference Tournament championships
Separate winning streaks of 111, 90, and 70 in a row
The team has an absolute commitment to excellence. One of the coach's favorite sayings is:
"Most teams practice until they get it right; we practice until we can't get it wrong."
Former players frequently visit to get to know the current players, share their knowledge, and history of the program. That perpetuates the legacy. It also inspires other great players to come to UCONN – so much so that the recruiting challenge is flipped. An organization's greatest asset IS its' reputation. Coaches don't have to get on planes as much; great players come to UCONN and beg to be part of the program.
INTERNATIONAL PLAYERS: What's more impressive is that the list of outstanding UCONN players now includes a number of international ones. Currently, only 8 players are used in any game. In no particular order (well … yes there has to be an order … so it will be from tallest to shortest), 5 of these 8 come from other countries:
Hungary
Canada
France
Croatia
Portugal
(3 of the 8 are from the USA).
GLOBAL: The world is becoming more global. There is a lot of international talent with a high work ethic. The diversity they bring (adapting, stronger chemistry) is a major advantage. With that, though, come multiple challenges to building and sustaining High Performance Teams.
Mindset and international experience matter. Geno was born in Italy and has coached the US Women to Olympic Gold Medals twice. He (and the program) not only seek, but they embrace international players. That said, the focus is always on character first. He wants only those players who are passionate about winning, self-development, and placing the team over individual. That's observed in a surprising way – body language. If a player is not consistently and highly engaged on the bench, she will not get into the game.
On the language and culture side, all the players (international and US) WANT to learn about each other. Their common bond is obvious – why they came to UCONN and to be part of the historic legacy. They TRULY care for and about each other. That is evident in how those on the bench are joyful when those on the court make a great play.
The UCONN program takes pains to ensure that the international players belong and feel safe. That may include calming the anxieties of their overseas parents. These efforts result in a high level of chemistry and trust. They also represent one of PBI's favorite sayings:

Excellence and global success are very possible. Think about how international players have greatly improved teams in Major League Baseball, Major League Soccer, and the sport of women's golf (LPGA). We encourage leaders to learn from all these examples and aspire to become successful in both.